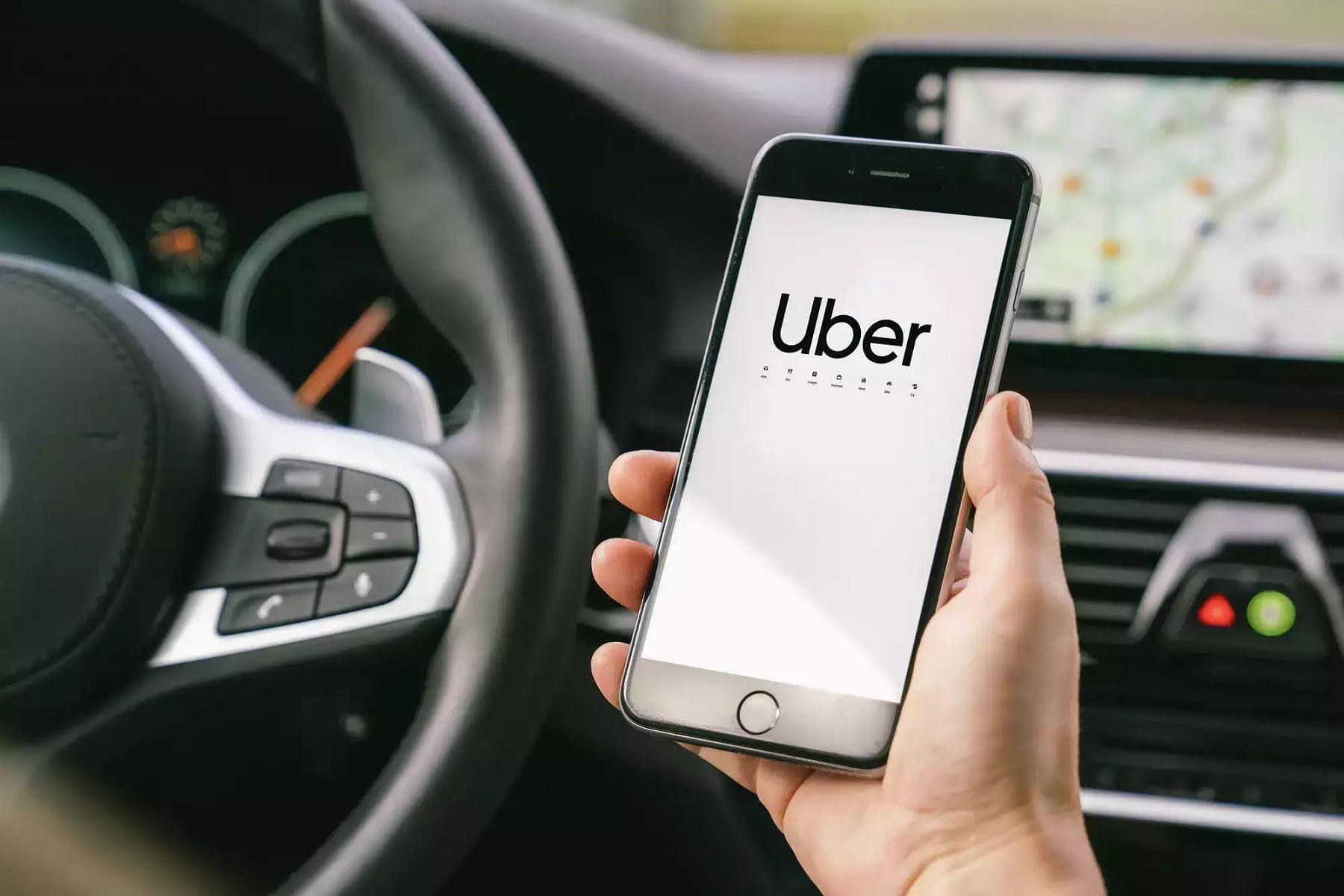 The History of Uber - Uber Startup Story
The world's largest ride-sharing company, Uber Technologies, was founded in 2009 and quickly grew to become the world's most valuable startup. The initial idea for the Uber Cabs concept was by two persons, Travis Kalanick and Garrett Camp. 2008 was the year when both Travis Kalanick and Garrett Camp were attending a conference in Paris. After the conference finished, the duo looked for a cab. Still, they could not find any, which made them realize that finding a taxi when needed is quite a hassle. Using technology, we can surely make this whole process through automation. This idea is a big hit. At that time, the Limo timeshare service was running, and many owners owned a limousine (a luxury sedan car) on a time-sharing basis.
The history of Uber went from the most feared startup in the world. After returning from the conference to San Francisco, he kept contemplating the idea and bought the domain name UberCab.com. Until mid-2009, Camp and his friends Oscar Salazar and Conrad Whelan built the very first prototype of UberCab. Camp then approached Kalanick to join UberCab. After a lot of research in 2010, they first tested UberCab's service in New York with just 3 cabs. Finally, in May 2010, UberCab was officially launched in San Francisco after a few months.
Uber - Name and Logo
The company name is unique Uber is derived from the German word meaning "above all the rest" a principle Kalanick and Camp wanted for their fledgling company.
Uber Logo
December 2008
The idea comes from a cold winter evening in Paris when Travis Kalanick and Garrett Camp couldn't get a ride. That's the turning point of Uber's start.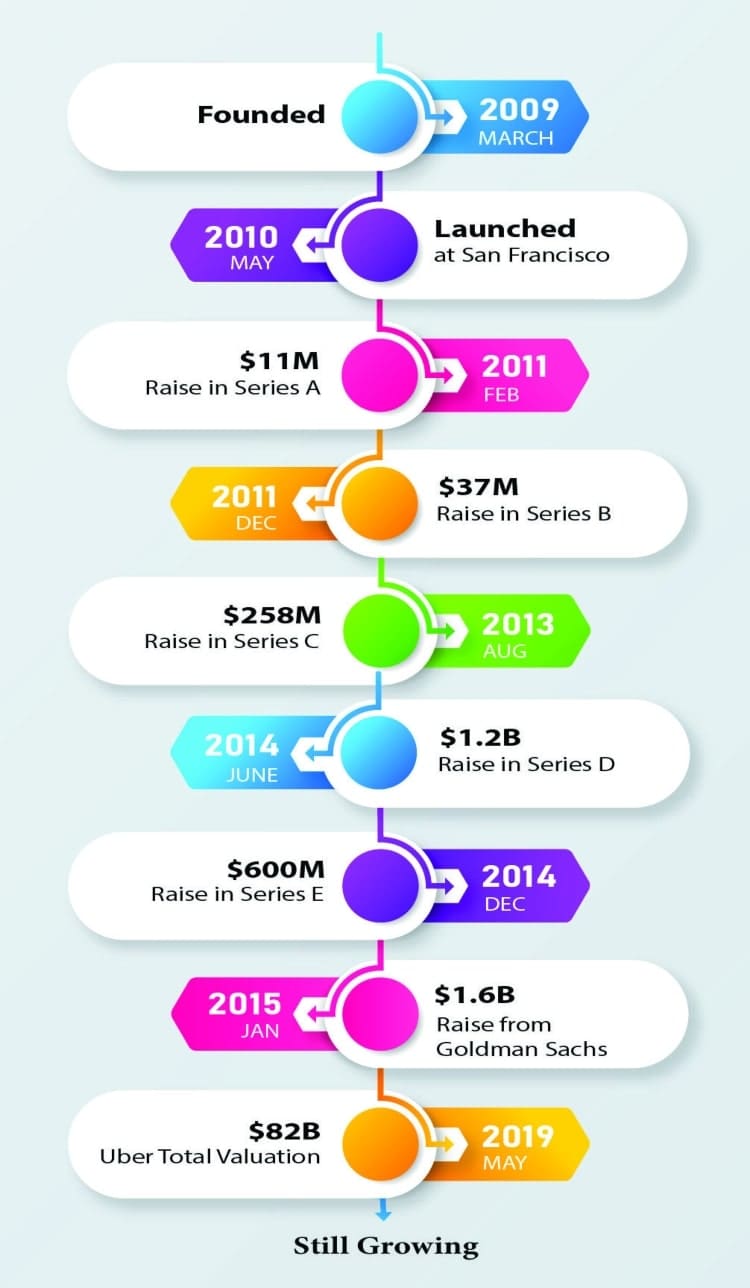 Uber launches in San Francisco
March 2009
After that, the 2 entrepreneurs developed a smartphone app that let people tap a button and get a ride.
The first-ever Uber trip
July 5, 2010
July 05, 2010, was the day when the first Uber rider requested a trip across San Francisco.
Bonjour, Paris!
December 2011
The idea was born 3 years earlier when Uber launched internationally in the same city.
Bringing sweets to the streets
July 2012
For the first time in Uber history, the on-demand service started, and riders could request on-demand ice cream delivery in 7 cities across the US.
The perfect partnership
October 2013
After that, Uber entered a new segment, and Together with animal shelters across the US, they launched UberKITTENS. Again, local shelter proceeds benefited when the Riders requested 15 minutes of snuggle time with a furry friend.
Connecting riders in 100 cities
Spreading Goodwill
May 2014
With #UberSpringCleaning, riders requested on-demand donation pickups and gave more than 5,000 pounds of clothes to Goodwill.
UberPool launches in San Francisco
August 2014
In August 2014, UberPOOL was available to all Uber users in the San Francisco Bay Area with a new idea. UberPOOL service, riders can share trips with other riders along their route and reduce the cost of fares by up to 40%. It could also help streets become less congested and cities less polluted with every ride.
Saluting the US military
September 2014
UberMILITARY was created by Former Secretary of Defense Dr. Robert Gates partnered with Uber. This idea worked; eighteen months later, more than 50,000 military personnel and their family members were earning money driving with Uber.
Feeding the needs of hungry kids
December 2014
Uber partnered with No Kid Hungry campaigning in which drivers and riders come across the country to donate #5MillionMeals to needy children.
Moving toward safer cities with MADD
January 2015
With the help of the MADD campaign to reduce drunk-driving incidents around the US, we started a partnership with MADD that has remained in place for years.
Moving into food delivery
April 2015
Uber Eats made its debut in Chicago, LA, and New York City, letting people enjoy on-demand deliciousness.
A historic vote in Saudi Arabia
December 2015
For the first time in history, Saudi Arabian women were given the right to vote (and the option to request a free ride to the polls). But this was a new era of equality. Finally, after Some time, women were in the driver's seat, exploring opportunities they never had before.
1 billion trips and counting
December 30, 2015
Uber crossed 1 billion trips within five and a half years.
The first self-driving vehicle pilot
September 2016
Uber launched the self-driving pilot program in Pittsburgh. As a result, local riders could get a self-driving vehicle when they request their next trip.
Self-driving vehicles reach 2 million miles
December 2017
In less than 100 days, our self-driving vehicles went from 1 million to 2 million, driving an average of 80,000 miles per week.
To go forward, we must go together
June 2018
Every day, we stand with the LGBTQ+ community on the journey to equality. During this month, our rainbow flag traveled from city to city, connecting our community across continents.
10 billion trips and counting
June 10, 2018
In more than 21 countries across five continents, 173 trips and deliveries started simultaneously. And the journey to our next 10 billion trips and counting.
Making destinations more accessible
November 2018
Uber partnered with MV Transportation and brought its fleet of drivers and hundreds of wheelchair-accessible vehicles (WAVs) into the Uber app.
Uber - Competitors
Uber has numerous competitors in its core business as a mobility service provider. Some of the Uber competitors include:
Ola Cabs
Lyft
Grab
Didi Chuxing
Curb
Public transport
Local taxis
These days, both Uber and Ola have been facing huge controversies and criticism lately due to the surge pricing, denying ACs, even during the relentless summers, and more. With all these complaints against the Ola-Uber duopoly, another challenge is looming over the giant cab aggregators of India, where Mukesh Ambani and Ratan Tata will be assembling to fight the challenges involved in the Indian transportation sector. In the future, we recently heard that Indian billionaires partner with BluSmart to build a convenient, all-electric transportation system.
Get a customized uber clone for your taxi business featuring a customer app, driver app, and intuitive admin panel.
Author's Bio
Vinay Jain is the Founder at Grepix Infotech and brings over 10 years of entrepreneurial experience. His focus revolves around software & business development and customer satisfaction.