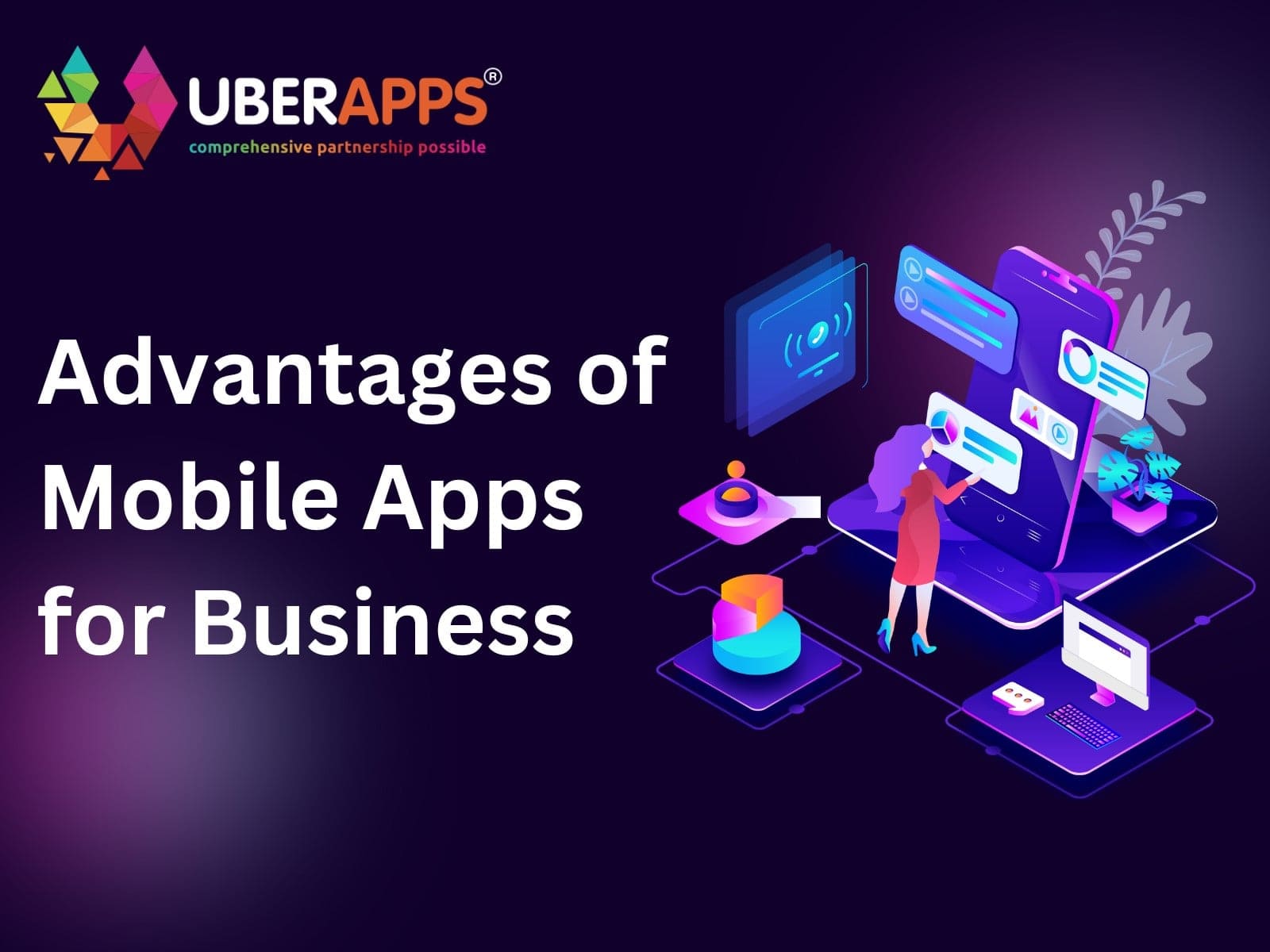 Advantages of Mobile Apps for Business
Mobile gadgets have become an essential part of our daily lives in the fast-paced world of today. We rely on mobile devices nearly exclusively for everything, from socializing to purchasing. Mobile apps are becoming a vital tool for businesses to engage with customers, improve the user experience, and generate cash.
More and more companies are thinking about creating a mobile app as an additional sales channel and marketing tool. Given how much time people spend on their smartphones, having a strong presence there to stay at the top of your target market's mind makes commercial sense. To put it into perspective that obviously there is a market and it's constantly growing as the app users grow. Here are the stats for growing worldwide mobile app revenue: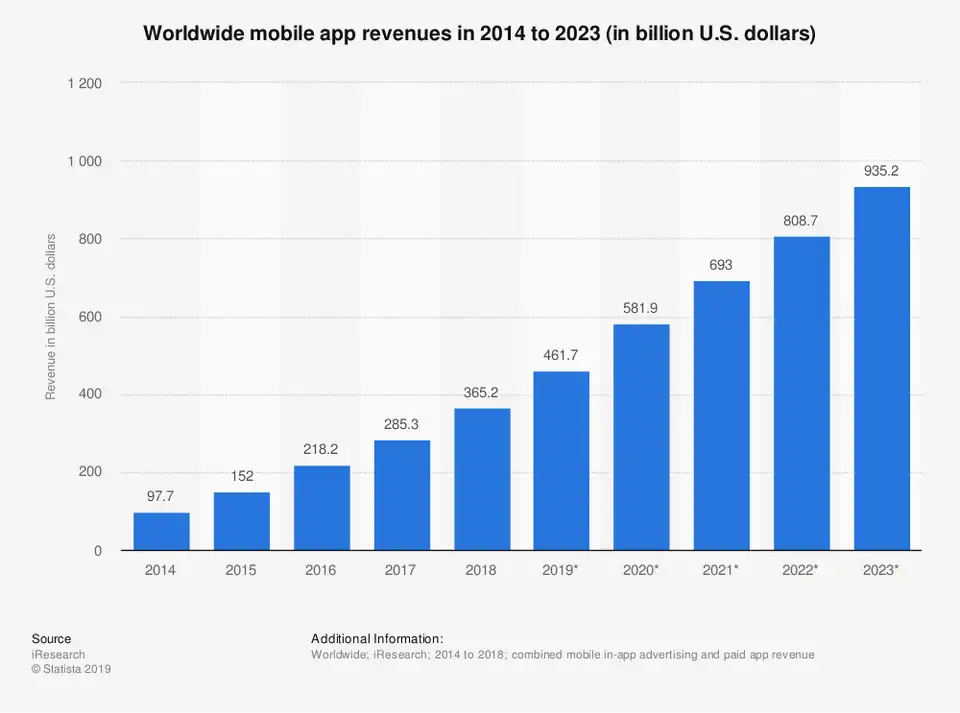 While mobile-friendly websites are still crucial, your company should also take into account the benefits of mobile apps. Even in the on-demand taxi business, taxi apps are better because they are much cheaper, more comfortable, and easy to use.
In this blog, we'll talk about the key benefits of mobile apps for businesses.
1. Enhanced Customer Engagement
Businesses may communicate with their clients quite effectively using mobile apps. Businesses may simply alert customers to new items, limited-time deals, and other updates by using push notifications. This instills a sense of urgency in customers, motivating them to buy.
It's important to offer customers the most value available to make their purchasing decision simple and foster brand loyalty, and a mobile app is an excellent method to do this.
Customers can purchase your things more easily if your app has e-commerce functionality, for instance. Additionally, enabling package tracking within the app shows clients that your company wants them to feel secure anytime they make a purchase.
Personalization is a way that mobile apps can enhance their value. To make the app more pertinent to their needs, let end users choose the content they want to see.
2. User Experience
The user experience of mobile apps is intended to be seamless. Mobile apps, as opposed to mobile webpages, are designed with small screens and touch interfaces in mind. Customers will find it simpler to navigate and find what they're looking for as a result.
Because not all consumers use the same channels, offering numerous ways for customers to get in touch with you is essential. Some people might want to call you, while others would want to message you on an app.
Customers now have another way to interact with you directly thanks to mobile apps. Through a mobile app, you may interact with your consumers directly by answering their queries, reminding them of appointments, and providing information about new products.
3. Brand Visibility
Increasing your company's visibility is essential if you want to draw in more customers. In the words of Varnas, "A mobile app provides another marketing channel you can use to reach people who may not already be familiar with your business."
People might come upon your native software, for instance, if it is available on Google Play and the Apple Store when looking for similar apps. If they find your app interesting, they might elect to download it and sign up as a prospect or customer.
Businesses have a special opportunity to boost their brand visibility with mobile apps. Businesses can reach a larger audience and boost their overall brand recognition by creating an app that is accessible in app stores.
4. Customer Insights
Businesses can gain useful data about client behavior through mobile apps. Businesses may monitor user activity, spot popular items, and examine customer comments with the use of analytics software. This data can be applied to enhance goods and services and eventually boost sales.
Your firm will be more successful the more you understand your clients. Businesses have a wonderful method to learn about customer behavior and perceptions of their brand thanks to mobile apps.
Consider rewarding a consumer for their loyalty, for instance, if they regularly use your app. To reengage a consumer who hasn't opened the app in 60 days, think about the retention strategies you may employ.
Businesses can greatly benefit from mobile apps. Many consumers are already using apps on their phones to purchase online or find offers thanks to the widespread adoption of mobile technology, according to Varnas. Therefore, it comes as no surprise that more companies are attempting to develop mobile apps to capitalize on this trend.
5. Customer Loyalty
Customers benefit from a more personalized experience thanks to mobile apps. Businesses can strengthen their ties with clients and increase loyalty by offering features like loyalty programs and personalized suggestions.
6. Revenue and Sales
Businesses have a direct route to clients thanks to mobile apps. Businesses can grow sales and revenue without the requirement for a physical location if customers can make purchases directly from the app.
7. Competitive Advantage
Businesses might have a competitive advantage over their rivals by providing a mobile app. This is especially true for companies in sectors like retail, where customers now demand that enterprises have mobile apps.
Whatever your industry, there's probably a lot of competition. How can your company distinguish itself from the competition? You need a variety of strategies to set yourself apart, such as a special product or service model.
Using a mobile app is another way to stay competitive. Customers may flock to your app since it's a novelty in your business or region, giving you an advantage, if your rivals don't have one and you do.
8. Customer Service
Businesses have a platform to deliver better customer service thanks to mobile apps. Businesses can quickly and efficiently address customer questions and issues in real-time thanks to features like chatbots and in-app messaging.
9. Cost-Effective Marketing
For organizations, mobile apps can be a cost-effective marketing tool. Businesses can communicate with clients through push notifications and in-app messaging without investing in costly marketing efforts.
10. Productivity
Businesses can also enhance productivity by using mobile apps. Businesses may streamline workflows and increase efficiency by giving staff mobile access to crucial information and tools.
11. Access to Customer Data
Businesses may obtain significant customer information through mobile apps, including location, behavior, and preferences. The consumer experience can be enhanced by using this data to develop customized marketing strategies.
12. Social Media Integration
Businesses may connect with a larger audience and boost engagement by integrating mobile apps with social media platforms. Additionally, this integration might assist companies in forging closer connections with their clientele.
13. Data Security
Advanced security features like biometric authentication and encryption can be included in mobile apps. Customers may shop with confidence and share private information thanks to this.
14. Customer Satisfaction
Customer satisfaction ultimately rises as a result of mobile apps. Businesses may increase customer loyalty and boost income by giving clients a more personalized and practical experience.
Conclusion
Businesses that want to engage with clients, boost sales, and enhance the user experience must now have access to mobile apps. Mobile apps offer several advantages for organizations of all sizes and industries, from greater consumer interaction to improved data security.
Creating a taxi booking app is a difficult task. You must develop a distinctive idea that will function properly if you want to make an uber app clone that will compete for the top spots in the market.
Author's Bio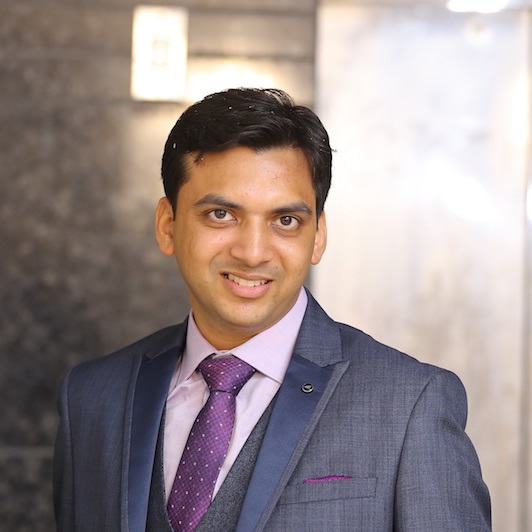 Vinay Jain is the Founder of UBERApps and brings over 10 years of entrepreneurial experience. His focus revolves around software & business development and customer satisfaction.